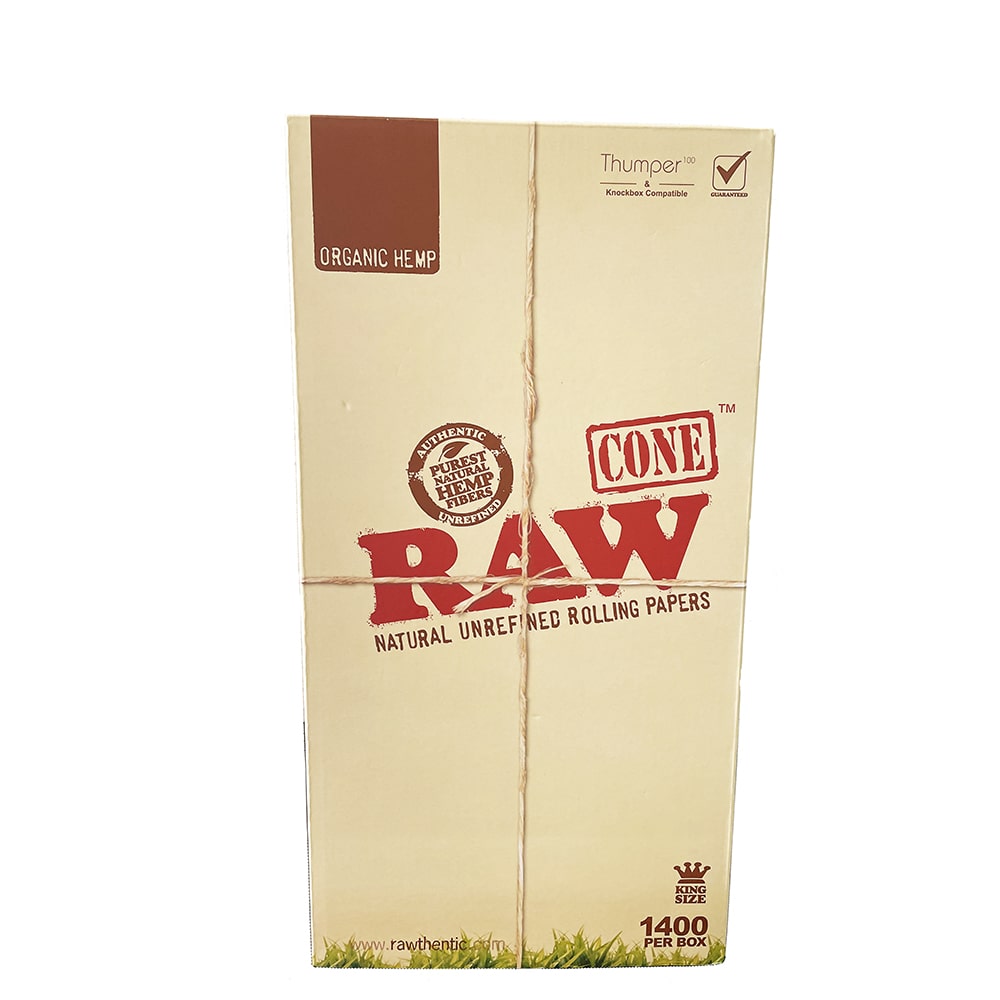 RAW Cones King Size Organic: Pre Rolled Rolling Papers with Filter Tips - Rawthentic, All Natural, Vegan - Includes Green Blazer Tube
Hold up to

 

1.5 grams
110mm (4.33in) long with 26mm (1in) tip
RAWthentic: All natural, unrefined fibers
100% GMO & Gluten Free
100% Satisfaction Guaranteed
Thin cones with a smooth, clean taste
Eco-friendly process
Organic
The quality of organic hemp preroll cones all comes down to the purity of the manufacturing process. RAW's process ensures that none of the natural fibers are contaminated - and they are HAND-ROLLED AND FOLDED to create the perfect organic experience.
We recommend trying the RAW Cones organic experience at least once to see if you prefer the boldness of organic hemp cones.
Brand: RAW 

Package Dimensions:
Benefits of Using Organic Pre Rolled Cones
Are you a seasoned smoker? Are you new to rolling? Anyone who has rolled (or attempted to roll) a cigarette knows just how tricky it can be. Perhaps this is why so many are thrilled at the ease and simplicity that come with pre rolled cones. It's like having a hand-rolled cigarette without actually having to roll anything. 
And while that should seem like benefit enough, RAW pre rolled cones actually come with a long list of benefits, including:
Ease of use.

 You don't have to be a skilled roller - or a roller at all - to be able to use pre rolled cones. 

Consistency.

 Because the pre rolled cone always holds the same amount, you always know just how much you are smoking. 

Superior quality.

 

These organic pre rolled cones are all natural, made with no chemical pesticides and no synthetic substances. And they are made with an eco-friendly process.

No need for rolling papers.

 

Rolling papers can happily be a thing of the past when you have pre rolled cones.

Even burns.

 Avoid a harsh taste with pre rolled cones that always give you even burns. 
And, finally, the amount of time you will save is incredible. Using rolling paper can get faster and easier the more you do it, but it is safe to say that it can be done in an instant. With pre rolled cones, you can fill them, twist, and go!
How to Use Pre Rolled Cones
If you have thought about using RAW's Organic King Size Pre Rolled Cones but you aren't sure how they work, you will be surprised to learn just how easy it is. Just follow these 5 simple steps. 
Step one:

 Gather up your tobacco and set it aside. For the king-sized pre rolled cones you will need 1.5 grams.

Step two:

 Fill your pre rolled cone with the tobacco.

Step three:

 Use a packing tool (or something similar) to gently push it down. 

Step four:

 Grip the open end of the pre rolled cone - the wide end - and twist it so that it closes up. 

Step five:

 Give it a little shake to make sure you get an even, consistent burn and then sit back and light it up. 
Congratulations! You've just created a perfectly rolled cigarette. That's all it takes.
Frequently Asked Questions
Can I reuse a pre rolled cone? 
No. Pre rolled cones are not reusable. You light and smoke them just as you would do with any other smoking product. They cannot be reused. 
Do RAW's Organic King Size Pre Rolled Cones have a filter tip? 
Generally, yes. Most pre rolled cones come with a filter tip so all you have to do is fill, twist, and light it. 
Any questions you may have about these pre rolled cones or any on our website can be answered by our knowledgeable team. Give us a call at (702) 509-6042.
100% Satisfaction Guaranteed:
As an authorized RAW distributor, Green Blazer will replace any damaged product, or fully refund any customer not 100% satisfied with their purchase, no questions asked!
For a slightly larger preroll cone size, you may be interested in:
For a slightly smaller preroll cone size, you may be interested in: