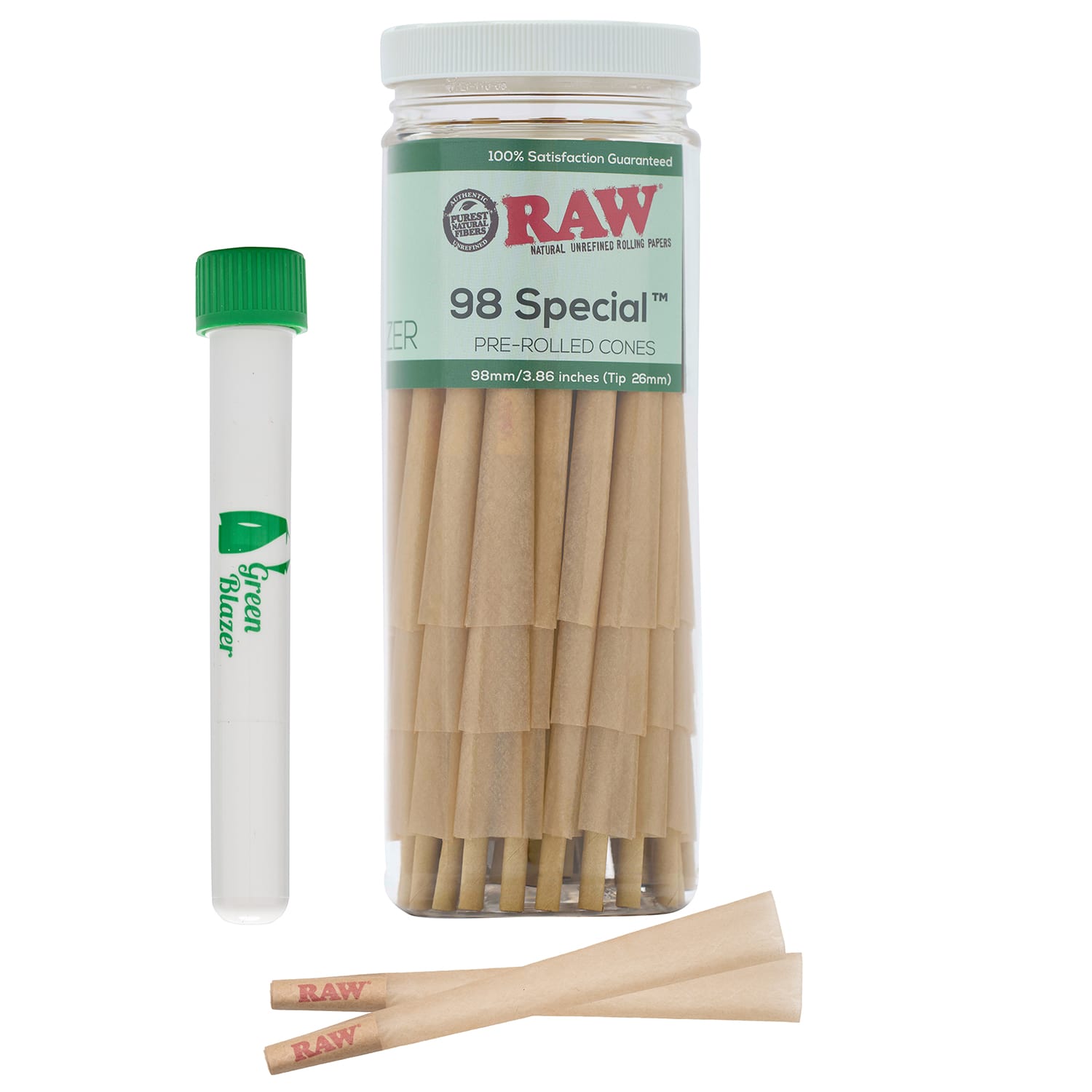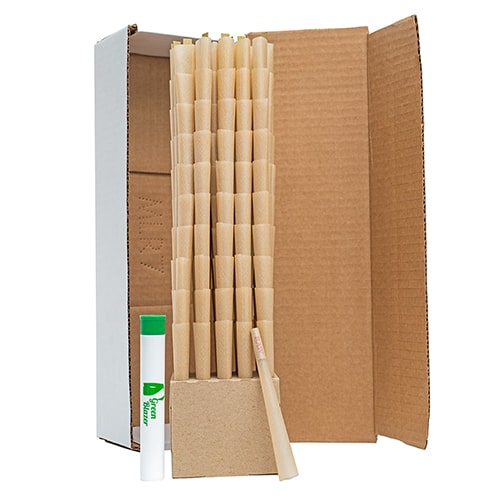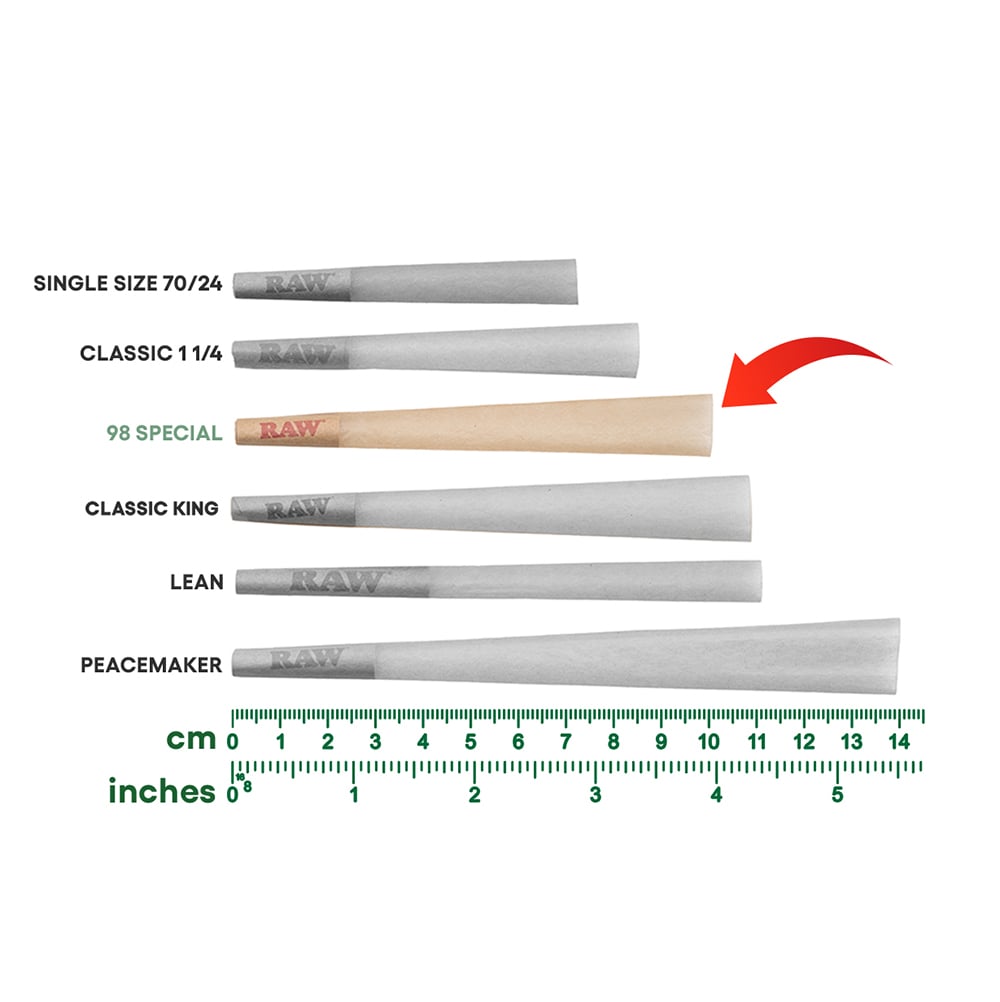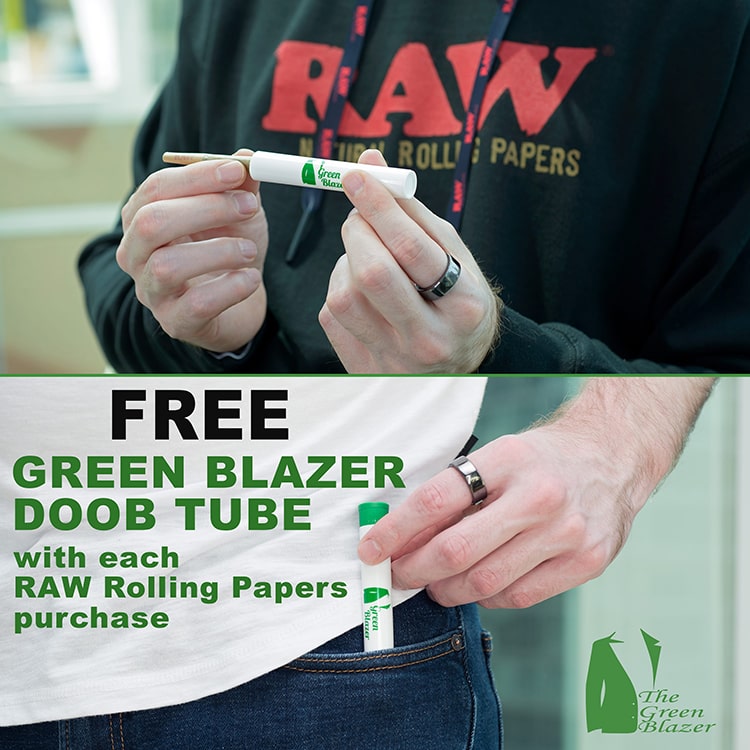 RAW 98 Special Pre Rolled Cones
Hold up to 1 gram

98mm (3.75in) long with 26mm (1in) tip

RAWthentic: All natural, unrefined fibers

100% GMO & Gluten Free

100% Satisfaction Guaranteed

Thin cones with a smooth, clean taste
Eco-friendly
No chlorine bleach
Vegan friendly
No added chalk or dyes
The 98 Special is one of our most popular preroll cones. It's 1 gram of RAWthentic quality: the purest fibers that guarantee a smooth experience. These pre rolled cones are 98mm (hence the name) which means they are longer than the classic 1 ¼ cone, shorter than the Kingsize, yet skinnier than both. 
Brand: RAW 
Package Dimensions:
8.26cm x 8.26cm x 15.88cm; 85g
(3.25in x 3.25in X 6.25in; 3 oz)
Benefits of Pre Rolled Cones 
Most people want to smoke a cigarette - not roll it. So, if you don't have to, why would you? Whether you are a newbie or a seasoned smoker, pre rolled cones are bound to enrich your life. With the ability to hold 1 gram, the 98 special pre roll cones are perfect for small groups or even solo enjoyment. 
Plus, these cones come with additional benefits, too, such as: 
Consistency every time you smoke.

Fast and easy to use - saving you a ton of time!

Ditch the rolling paper once and for all. 

High quality cones so you can feel confident you are only smoking the good stuff. 

Get rid of uneven burns and their harsh taste. 
Perhaps the best part is that the first puff always tastes as good as the last one. 
Using 98 Special Pre Rolled Cones
Green Blazer's RAW 98 special pre rolled cone is simple to use, whether you have a lot of experience or none at all. For those who smoke regularly, making the switch will be life changing. So, how do you use pre rolled cones? It's easy - just follow the steps below. 
Step one:

You first want to gather your tobacco. For the RAW 98 special cones, you will need about 1 gram. As you get practice doing this you should be able to eyeball the amount you need. 

Step two:

Hold your pre rolled cone and begin to fill it up. Gently take your packing tool and begin to push down and pack in the tobacco. 

Step three:

With one hand, hold the narrow end steady. Then, with your other hand, grip the wide end and twist it so that it closes snugly. 

Step four:

Give it a little shake so that everything is evenly packed in and you will get a consistent burn. 

Step five:

Find a couple of friends - or just yourself - and sit back, light it up, and relax. 
And, just like that, you've got yourself a perfectly rolled cigarette.
Frequently Asked Questions
What are RAW 98 Special pre rolled cones?
The RAW 98 Special pre rolled cones are directly in between a 1 1/4 and King size cone. It is 98mm in length.  Its a fan favorite! 
 How big is a RAW 98 Special pre rolled cone?     
The Raw 98 Special pre rolled cone is 98mm in length (3.85 inches). These come with a 26mm filter tip. This is a great size cone for every occasion! 
How much does a RAW 98 Special pre rolled cone hold? The RAW 98 Special pre rolled cone holds up to 1 gram. These are 98mm in length (3.85 inches). This is one of the most commonly used cones bulk producers and smoker alike.
What is RAW Rolling Paper made of?
RAW Rolling Papers are made of natural plants. There is no chalks, dyes or burn additives. The perfect papers indeed! 
Do RAW's 98 special pre rolled cones come with filters? 
Yes, they do come complete with filters. That means you just need to fill, twist, and light it up. No need to worry about adding anything extra. 
Can I reuse the pre rolled cones? 
No, pre rolled cones are not reusable. They are meant to be used in place of rolling paper. You light and smoke them so they can no longer be reused. 
What if I have questions before I order? 
If you have questions about any of our products or aren't sure what the best option is for your needs, contact our knowledgeable team at (702) 509-6042.
100% Satisfaction Guaranteed:
As an authorized RAW distributor, Green Blazer will replace any damaged product, or fully refund any customer not 100% satisfied with their purchase, no questions asked!