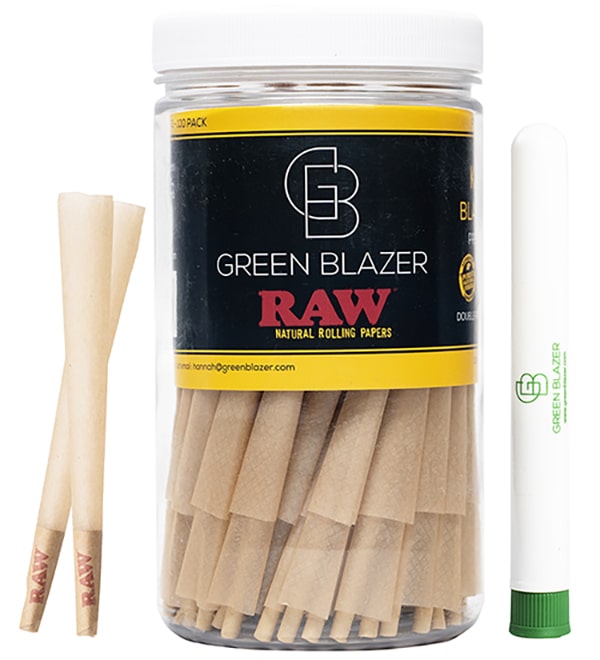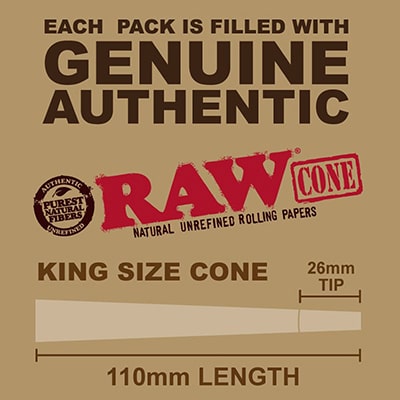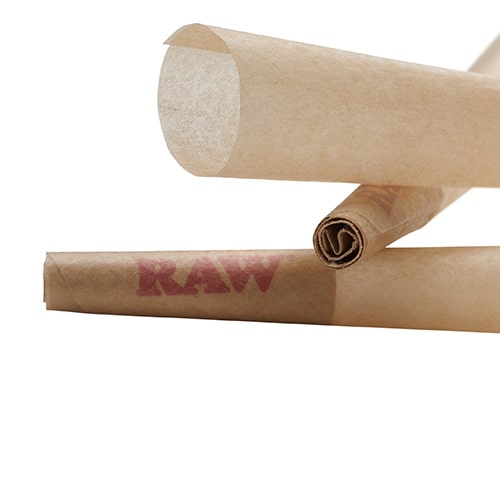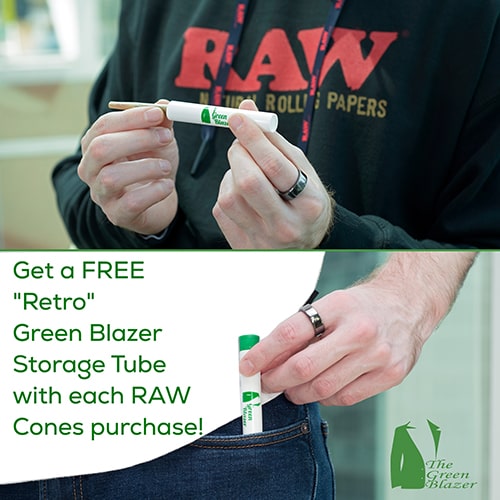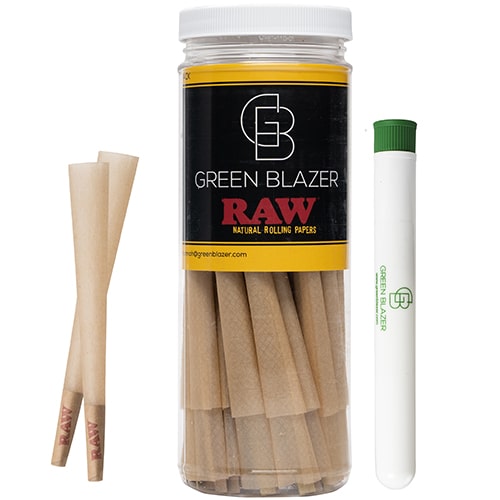 RAW Black Series Preroll Cones
Hold up to 1.5 grams
110mm (4.25in) long with 26mm (1in) tip
Extra-thin cones with a smooth, clean taste
Eco-friendly
RAW Black Series preroll cones are all natural, ultra thin, unrefined, 100% GMO & gluten free fibers that are pressed extra fine to be the slowest burning cones that let you taste the difference in your terps!
Some of our customers swear that the RAW Black series is the only way to experience the purest flavor and get the most out of their premium flower. Try today and find out if the RAW Black Series is right for you. You just may find what you have been searching for.
Brand: RAW 
Package Dimensions:
8.26cm x 8.26cm x 15.88cm; 85g
(3.25in x 3.25in X 6.25in; 3 oz)
Why Choose RAWs Black Series?
If you have ever wanted to smoke your tobacco in a way that isn't impacted by the paper it is rolled in, then you are going to love this. RAW's black series is all about giving you every ounce of flavor of whatever premium stuff you are smoking. These cones are made with paper that is double-pressed and extra fine. In fact, it may just be the thinnest ever made. 
Benefits of Pre Rolled Cones
Hand-rolling cigarettes are a thing of the past. Today, pre rolled cones are showing you that there is so much more to life when it's not wasted fiddling with rolling papers. Whether you are a new smoker or one who has been smoking for decades,  you will be delighted with what RAW BLACK series pre rolled cones have to offer. 
Simple to use.

You don't need any seasoned skill to be able to use pre rolled cones. You fill them, twist the end, and smoke it. It's that easy. 

Time-saving.

Hand-rolling cigarettes can take up a lot of time - especially when all you want to do is get to the good part. With pre rolled cones you can get to the good part much faster. 

Consistent, even burns.

Without fail, you will always know just how much you are smoking and you always get that smooth, clean, even burn every time.  
Green Blazer's RAW BLACK series is considered the cream of the crop when it comes to pre rolled cones. They are double pressed so they are extra fine - yet they burn slow. They have no chlorine or dyes and are 100% unrefined. When you smoke RAW BLACK series, you can count on smoking one of the best pre rolled cones on the market. 
How to Use Pre Rolled Cones
Pre rolled cones do not require any special skill or a lot of time. And they are a lot less tricky than learning how to roll a cigarette. There are just four basic steps that stand between you and a perfect, ready to smoke roll. Here's how you do it: 
Step one: Depending on the size cone you are using, gather up the right amount of tobacco you will need. 
Step two: Grab your cone and begin filling it. As you go, use your packing tool to gently push down on the tobacco to pack it in. 
Step three: Holding the narrow end of your pre rolled cone in one hand, use the other hand to twist the wide end together, making it snug. 
Step four: Now, all that is left to do is to give it a little shake, light it up, and enjoy!
Frequently Asked Questions
How big is the RAW Black King size pre rolled cone?
The RAW Black King size pre rolled cone is 109mm in length or 4.29 inches. This comes with a nice 26mm filter tip to complete the best cone on the market! 
What is the difference between RAW Black and RAW Classic?
The difference between the two styles is that the RAW Black Series are pressed extra fine to be the thinnest, naturally translucent and slowest burning cone on the market. Though these cones are not the actual color black.
How much does a RAW Black King pre rolled cone hold?
The RAW Black King pre rolled cone can hold up to 1.5 grams. This is a great cone to share with friends! 
What sizes of pre rolled cones are available in RAW's BLACK series?
Green Blazer offers both BLACK 1 ¼ premium pre rolled cones and BLACK King size premium rolled cones. 
Does the BLACK series come with filters?
Yes,  the RAW Black King size pre rolled cone comes equipped with 26mm paper filters for your convenience. 
What if I have questions about my purchase?
If you aren't sure what the right choice is for you or if you have any questions before you make your purchase, our team is here for you. Give us a call at (702) 509-6042.
100% Satisfaction Guaranteed:
As an authorized RAW distributor, Green Blazer will replace any damaged product, or fully refund any customer not 100% satisfied with their purchase, no questions asked!