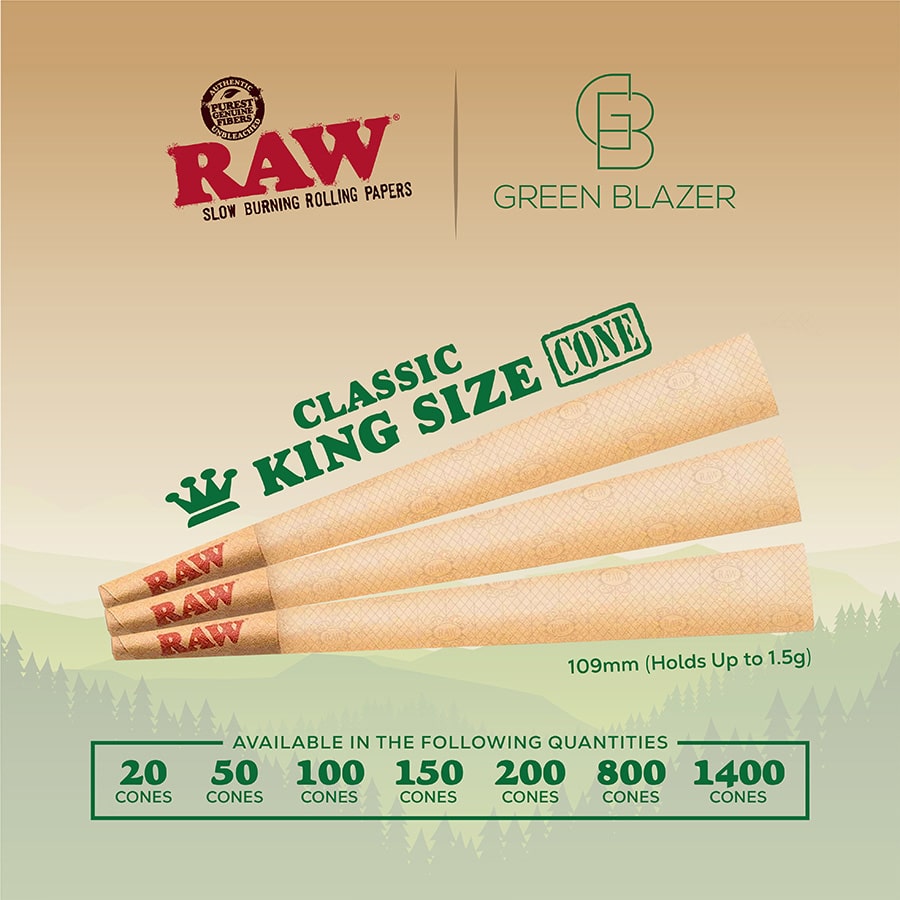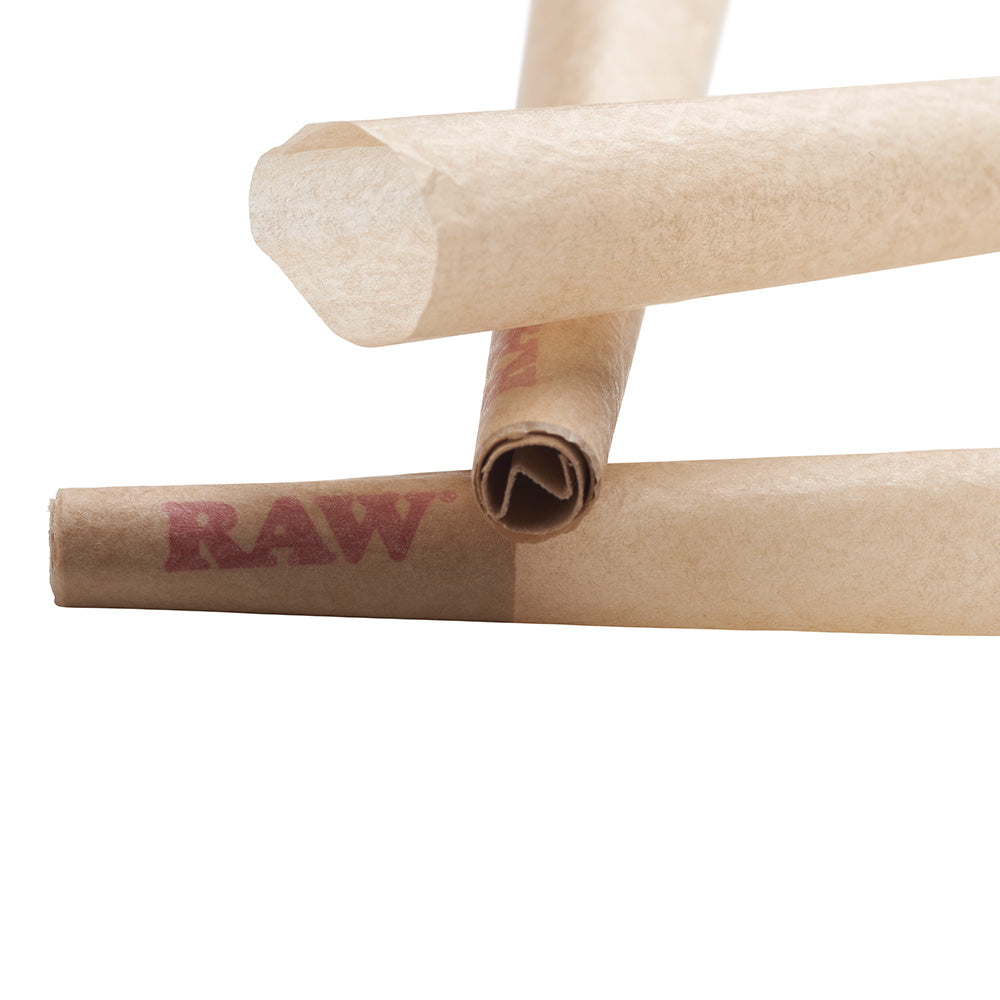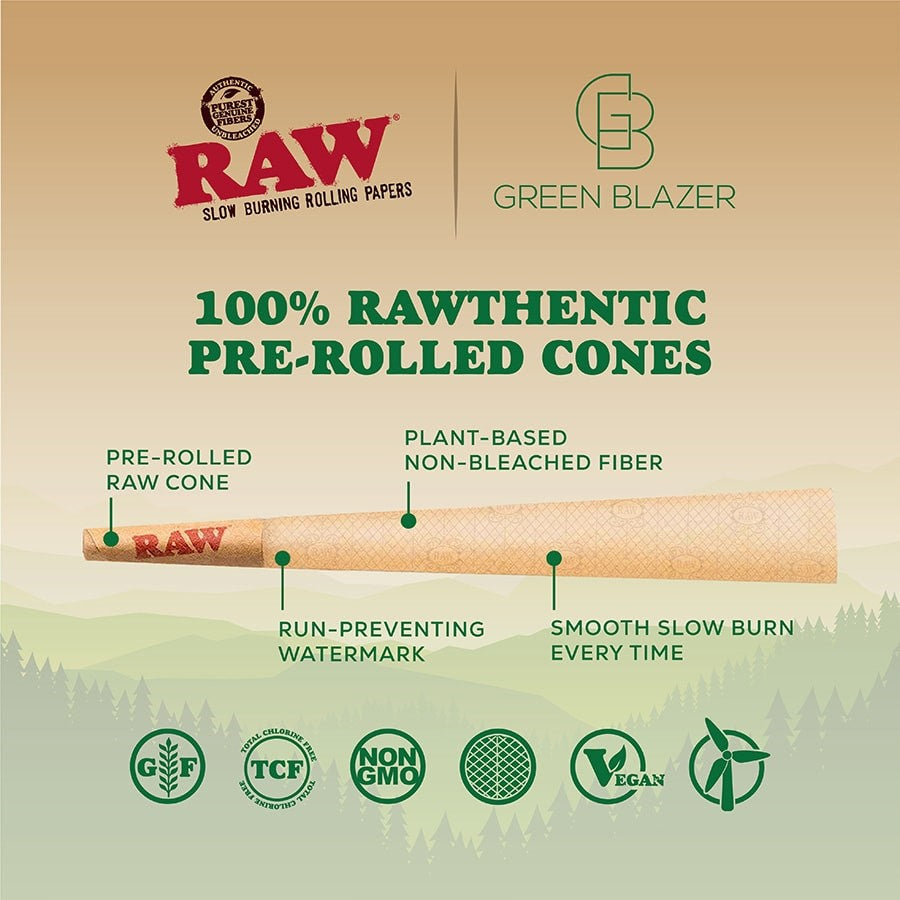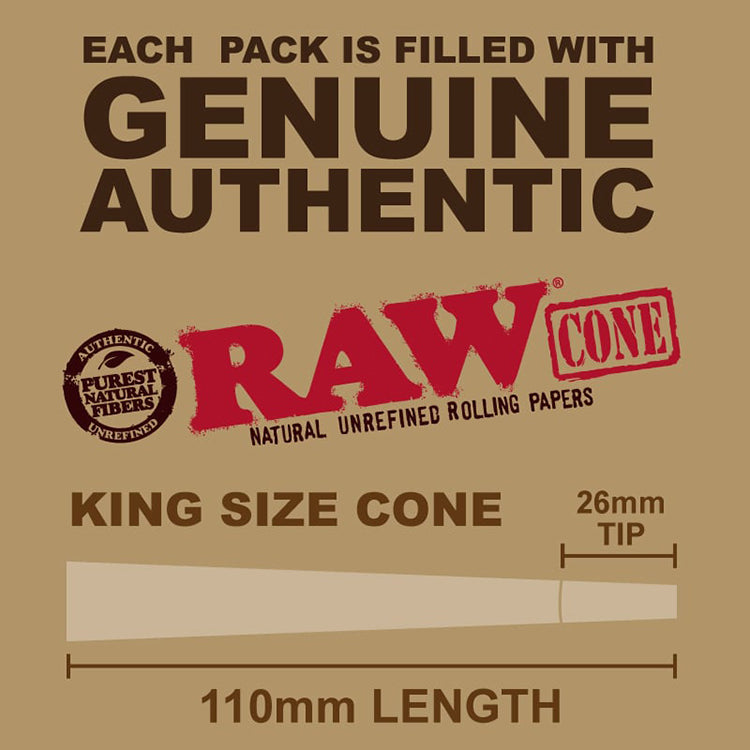 RAW Classic King Size Pre Rolled Cones
Hold up to 1.25 grams
110mm (4.25in) long with 26mm (1in) tip
RAWthentic: All natural, unrefined fibers
100% GMO & Gluten Free
100% Satisfaction Guaranteed
Thin‌ ‌cone rolling papers with‌ ‌a‌ ‌smooth,‌ ‌clean‌ ‌taste‌
Eco-friendly‌ ‌process‌
The Classic King is the OG of premium pre roll cones. At 1.25 grams it's the perfect size for a shared smoke with a friend to relax in the moment. After all, sometimes life is just too good to do it alone.
Brand: RAW 
Package Dimensions:
8.26cm x 8.26cm x 15.88cm; 85g
3.25 x 3.25 X 6.25 Inches; 3 oz
Why RAW Classic King Size Pre Rolled Cones?
You don't have to be new to rolling to wish that there was an easier way. Life is hard. It is full of ups and downs. It can have some really good moments and some really harsh moments, too. So, why not make things a little easier where you can, right? Like bringing pre rolled cones into your life - and then sharing a Classic King Size with a friend. 
When you give up hand-rolling and switch to pre rolled cones, you get so many benefits:
Consistency.

You always know just how much you are smoking. For the RAW Classic King Size it is 1.25 grams. 

Easy to use.

It is so easy to fill, twist, and go that you will wonder why you ever wasted time hand-rolling.  

High-Quality.

You get all natural pre rolled cones with unrefined fibers. 

Even Burns.

Avoid that harsh taste with even burns every time. 

No more rolling papers.

That says it all. 
Steps to the Perfect Pre Roll
Once you have a pre rolled cone in your hands, filling it and smoking it are pretty simple. Just follow these steps:
Step one:

For a RAW Classic King Size pre rolled cone you are going to need 1.25 grams of product. So, gather it up and have it handy. 

Step two:

Hold the pre rolled cone and begin filling it, gently pushing it in to pack with your packing tool (or something similar). 

Step three:

Grip the small end of the RAW cone with one hand and, with the other, twist the wide end so that it closes snuggly. 

Step four:

Give the RAW cone a little shake to make sure everything is spread out nice and evenly. 

Step five: Sit back, light it up, and enjoy.
Frequently Asked Questions
How much does a RAW King Size fit?
The RAW King size cone holds up to 1.5 grams if stuffed full and is 109mm long (4.29 inches). It's a great sized pre rolled cone to share with a group of friends. 
Do RAW's Classic King Size Pre Rolled Cones have a filter tip? 
Yes, every RAW pre rolled cone has a filter tip. Which is 26mm wide. So when you go to fill and smoke your RAW pre rolled cone, you don't have to worry about anything else. 
How long is a RAW King Size Cone?
The RAW King size cone is 109mm long with a 26mm filter tip. This makes it the perfect pre roll cone for you and your friends. 
What is the largest RAW Cone? 
The largest RAW pre rolled cone is the Challenger Cone. It is just ridiculously large, around 2 foot in length!! 
100% Satisfaction Guaranteed:
As an authorized RAW cone distributor, Green Blazer will replace any damaged product, or fully refund any customer not 100% satisfied with their purchase, no questions asked!
For a slightly larger pre roll cone size, you may be interested in:
For a slightly smaller pre roll cone size, you may be interested in: