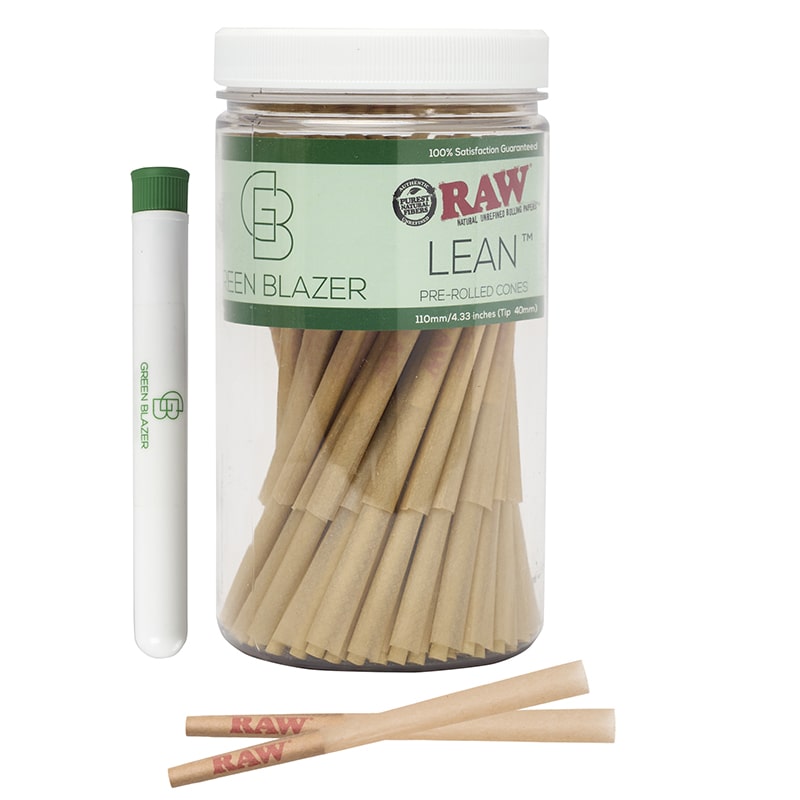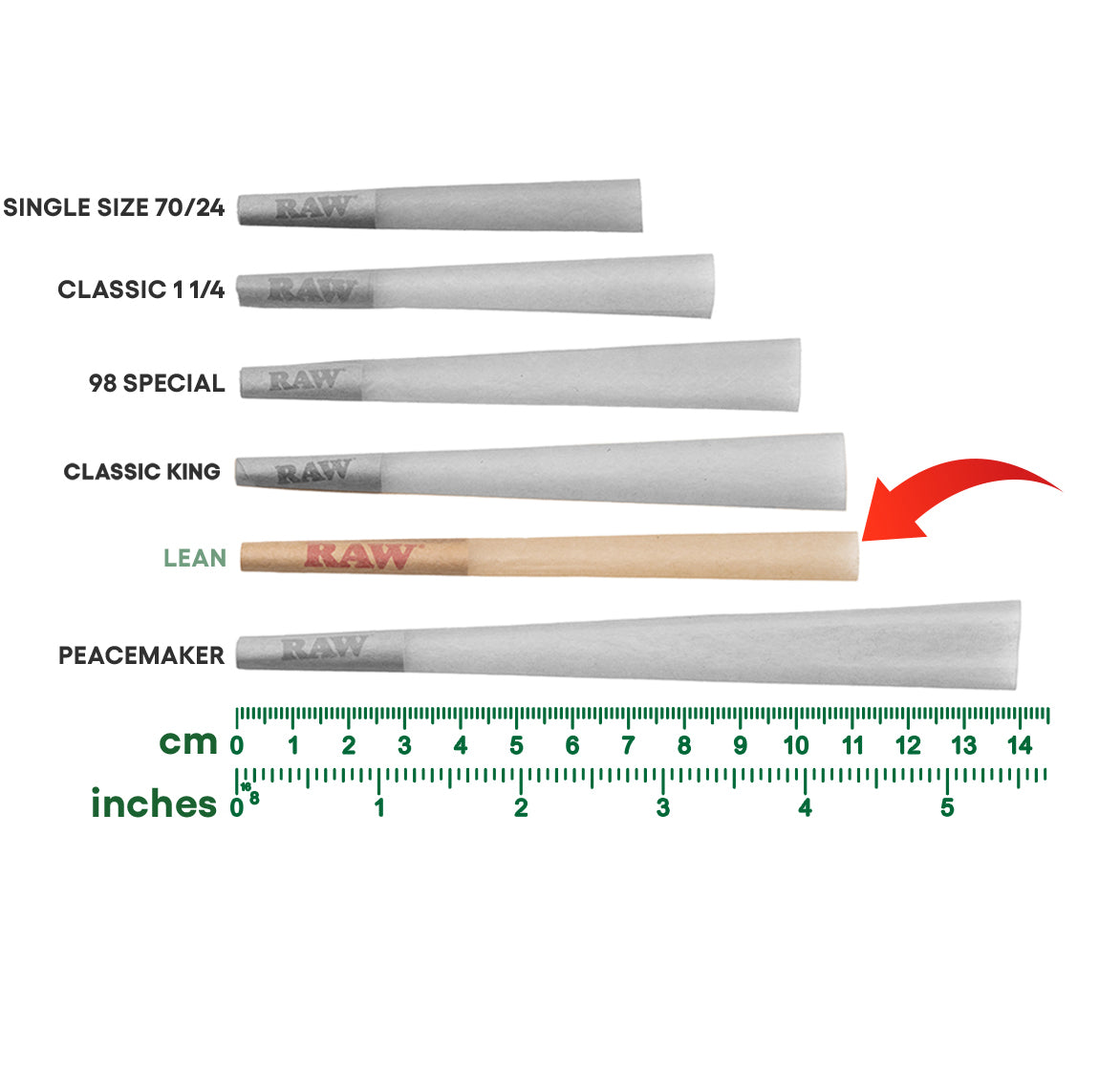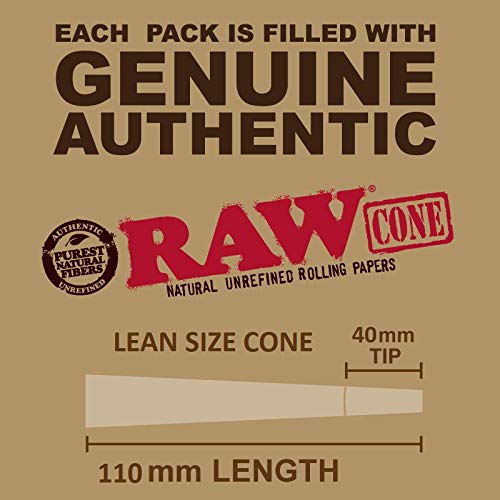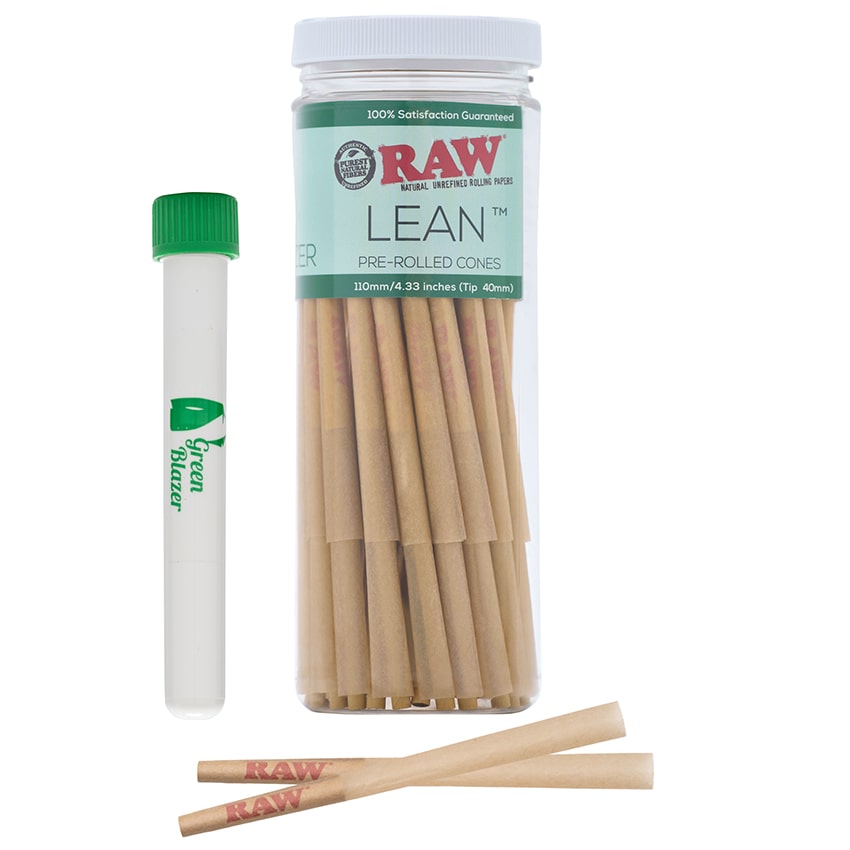 RAW Classic LEAN Pre Rolled Cones
Hold up to 1 gram
110mm (4.25in) long with 40mm (1.5in) tip
RAWthentic: All natural, unrefined fibers
100% GMO & Gluten Free
100% Satisfaction Guaranteed
Thin cones with a smooth, clean taste
Eco-friendly process
RAW's Classic Lean preroll cones are unique: They're designed to provide a different flavor by reducing the surface area of the burn (the ember). We have a small but dedicated following of Blazers that swear that this is the ultimate smoking experience. These pre rolled cones are the same length as the Classic King size, but much leaner. They offer very long filters that keep your lips safe from burns, but also cool the smoke. RAW Lean pre rolled cones are great for solo use.
Brand: RAW 
Package Dimensions:
8.26cm x 8.26cm x 15.88cm; 85g 
(3.25 x 3.25 X 6.25 Inches; 3 oz)
Why Choose RAW Pre Rolled Cones
Rolling a cigarette is not the easiest or most enjoyable task in the world. We all love the finished product, but very few like putting in the work. Thanks to pre rolled cones, though, we no longer have to. You simply fill them and smoke them - there is nothing difficult about it. Just imagine all the time you would save by not wasting it rolling. Not to mention that you've got these benefits, too: 
Easy to use.

You don't have to fumble around with rolling papers trying to roll your own hand crafted beauty. With pre rolled cones, you just fill them, twist them, and go. 

Ditch the rolling papers.

Speaking of rolling, you don't need to do it so say goodbye to the rolling papers. 

High-quality.

RAW pre rolled cones are of the highest quality. 

Even burns.

Uneven burns can lead to a harsh taste, but with pre rolled cones you will always have an even burn. 

Consistency.

RAW lean pre rolled cones hold up to 1 gram so you always know just how much you are smoking. 
A Step-By-Step Guide to Using Pre Rolled Cones
If you are interested in RAW's lean pre rolled cones but aren't sure how they'd work for you, you must understand that using them is simple. All you have to do is follow the steps below. It's that easy. 
Step one:

This particular cone holds up to 1 gram. So gather up the tobacco that you want to use. 

Step two:

Fill your pre rolled cone and use a packing tool to

gently

push it down into the cone. You don't want to overstuff it. 

Step three:

Grip the narrow end of the cone with one hand and then with the other, twist the wider end until it is snuggly closed. 

Step four:

Give your cone a little shake to make sure things are loosened up. 

Step five

: Sit back, light it, and smoke it. Once you reach this point, be sure to pat yourself on the back. Good job, friend.
Frequently Asked Questions
What are RAW Lean sized pre rolled cones? 
Raw Lean size pre rolled cones are unique cone that many smokers enjoy. It has the same length of the Classic King at 109mm but what makes it special is skinny all the way through, so there is no "baseball bat" end! 
How much can you fit in a RAW Lean size cone? 
The RAW Lean size pre rolled cone can fit up to 1 gram. The Lean size is 109mm in length with a 40mm filter tip. This is a great cone to share with friends!
How long is the RAW Lean size cone? 
The RAW Lean size pre rolled cone is 109mm in length (4.29 inches) with a 40mm filter tip. This Lean cone can hold up to 1 gram for you and your friends!
Does the RAW Lean size cone have a filter tip?
Yes! The RAW Lean size pre rolled cone comes with a 40mm size tip. This special cone is so skinny that they have to roll a spiral tip for each one! Pretty cool! 
How do you put out a pre rolled cone? 
There are a couple of ways you can put out a lit pre rolled cone. You can simply let it extinguish on its own as you hold onto it or place it in the ashtray. Or, you can gently apply pressure to the lit end as this will suffocate the embers.
What if I am not sure which cone is right for me? 
There are many different sizes and varieties. If you are new to the idea of pre rolled cones, then it can be tough to know where to start. 
The knowledgeable team at Green Blazer is available to help answer any questions you may have. Just give us a call at (702) 509-6042.
100% Satisfaction Guaranteed:
As an authorized Raw distributor, Green Blazer will replace any damaged product, or fully refund any customer not 100% satisfied with their purchase, no questions asked!