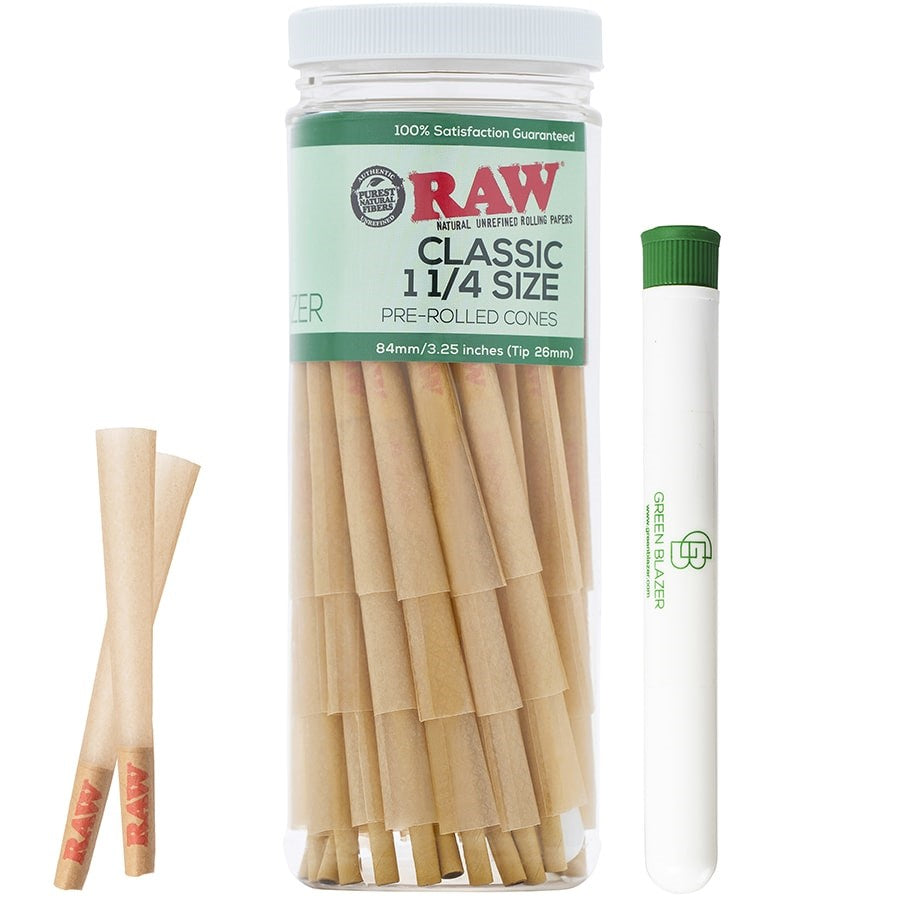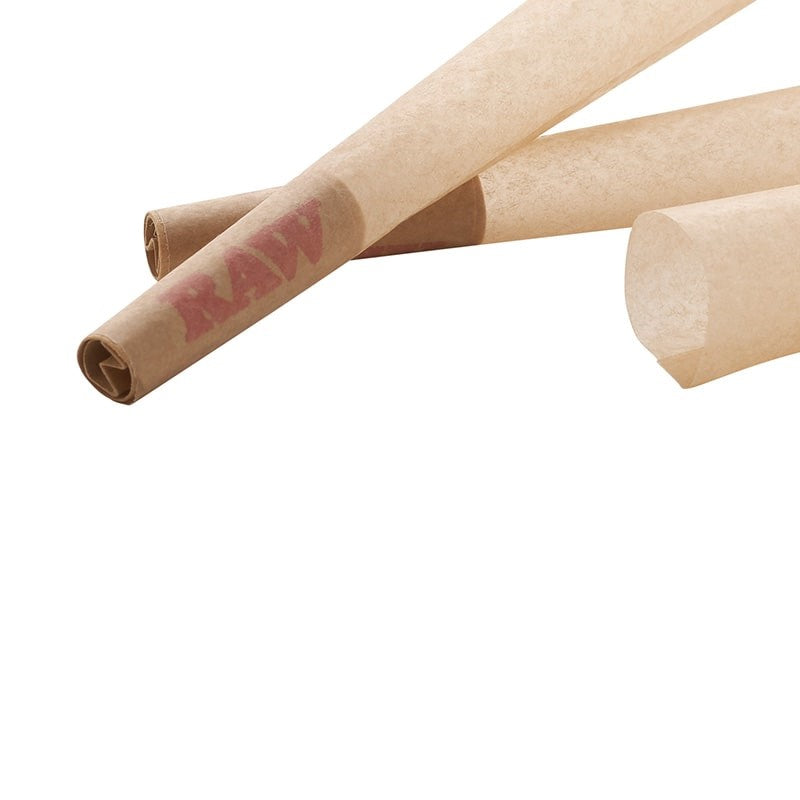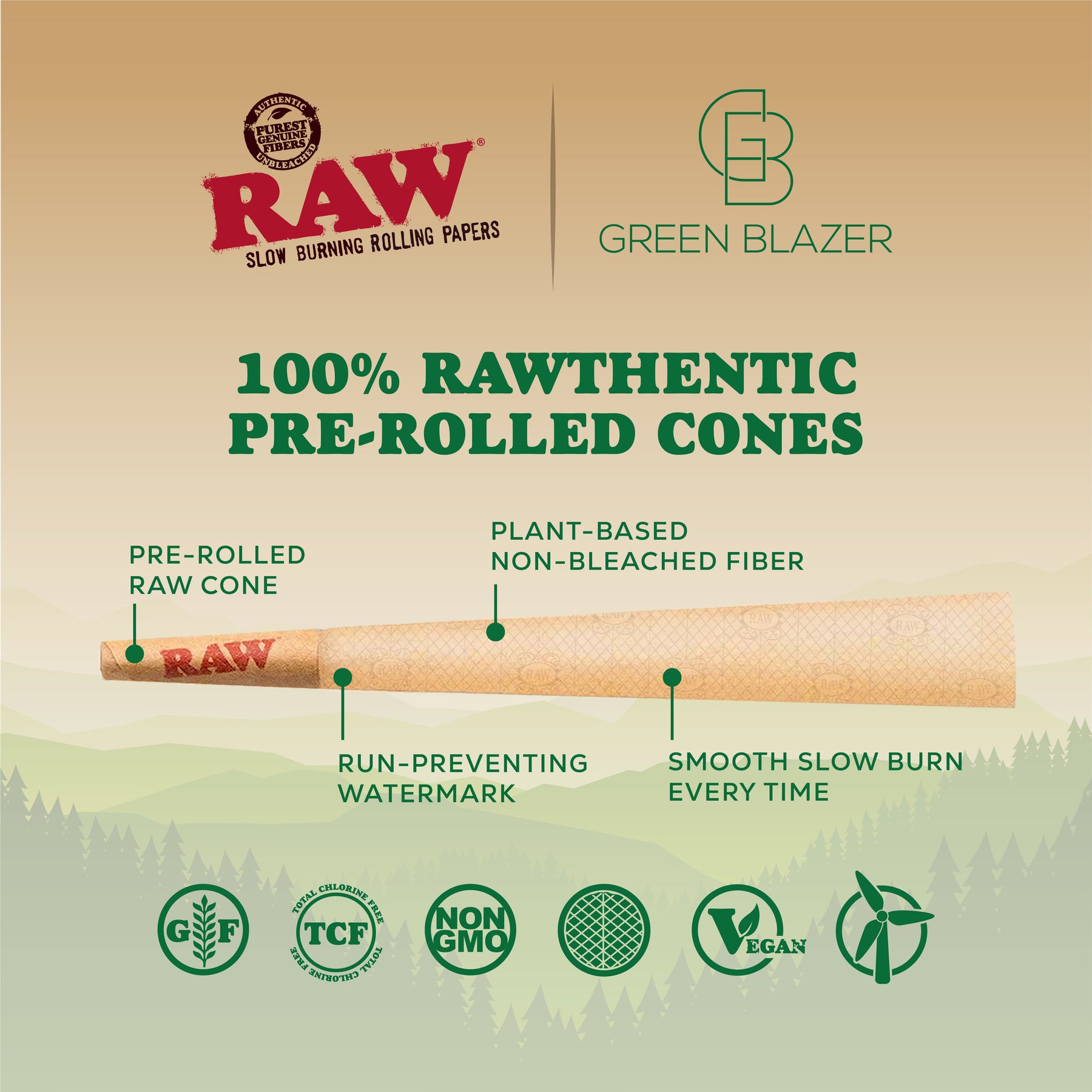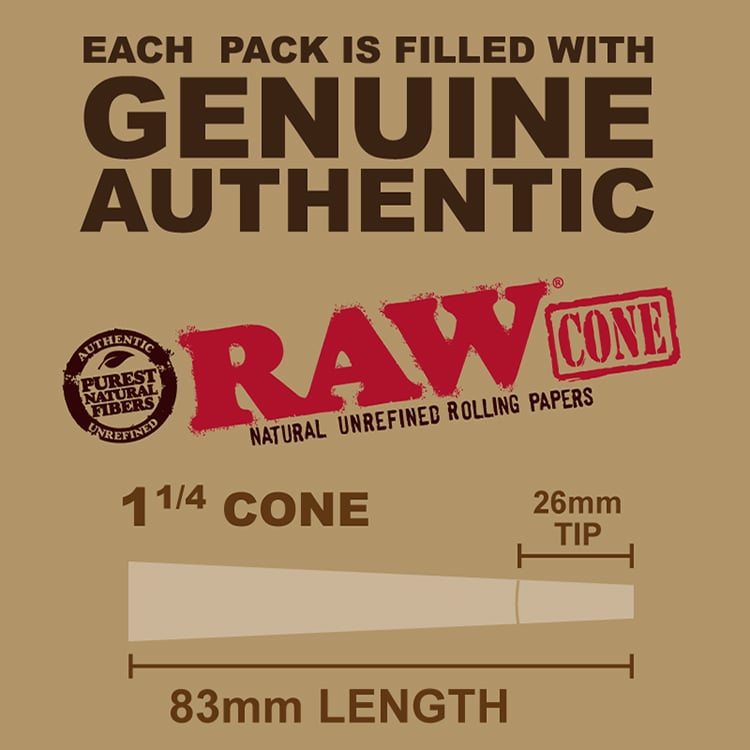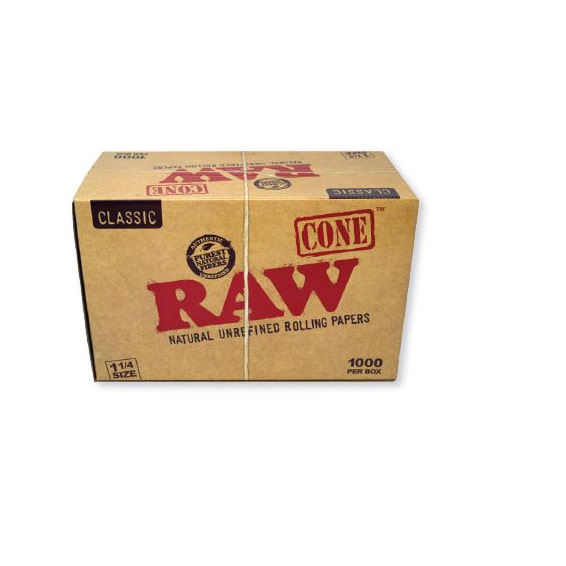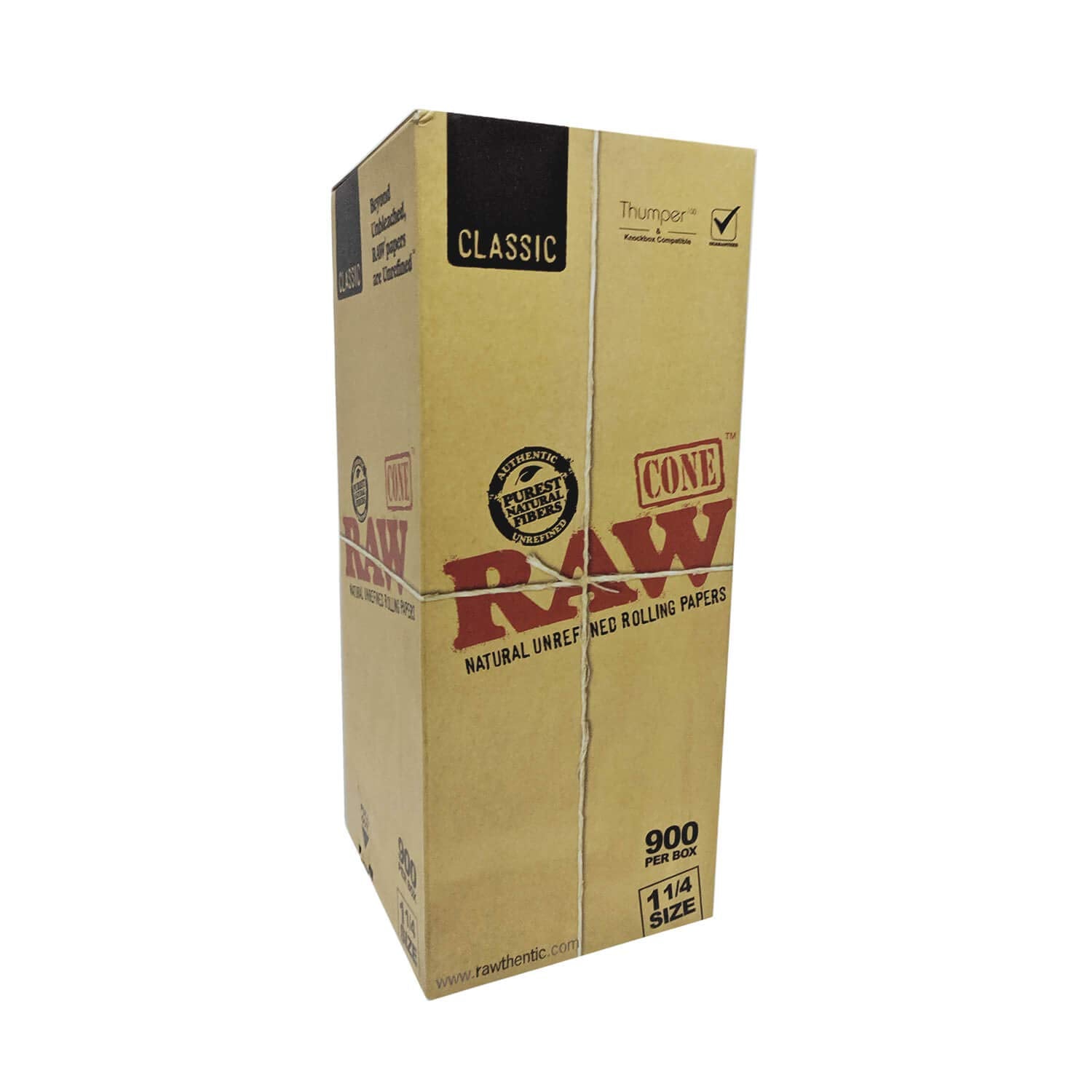 RAW Cones 1 1/4 Size:
Hold up to .75 gram
83mm (3.27in) long with 26mm (1in) tip
RAWthentic: All natural, unrefined fibers
100% GMO & Gluten Free
100% Satisfaction Guaranteed
Thin pre rolled cones with a smooth, clean taste
Eco-friendly
Brand: RAW 
Package Dimensions:
8.26cm x 8.26cm x 15.88cm; 85g
3.25in x 3.25in X 6.25in; 3 oz
RAW's perfect paper cone for a solo session, & trusted by many in the industry for their pre roll cones. A good choice.  'Nuff said.
Using Pre Rolled Cones
It doesn't matter whether you are a beginner today or were a beginner decades ago, everyone who has ever rolled a cigarette knows just how tricky it can be. This is why pre rolled cones delight smokers of all types. It's a great way to have a hand rolled cigarette without actually having to hand roll anything!
And they come with lots of benefits, too, such as:
Time-saving. Just add your tobacco, twist the end, light it up and go!
Ditch the rolling paper. You don't have to fiddle with rolling papers or try to keep them from tearing.
Consistency. You will always be smoking the same amount each and every time.
Easy to use. Even those who have never rolled before find pre rolled cones exceptionally easy to use.
High quality RAW cones. All natural, unrefined fibers made through an eco-friendly process.
Even burns. Uneven burns are common when using rolling papers and can lead to a potent taste. With pre rolled cones, you always get even burns.
So, How Do You Use Pre Rolled Cones?
Green Blazer's RAW pre rolled cones are so simple to use for those who have no experience at all. And, for those who smoke regularly, you are going to be in awe over how easy it is to use these pre rolled cones.
Step one: Gather your tobacco and set it aside. Don't worry - once you get more comfortable using the pre rolled cones you will have a better idea of just how much you need to fill one.
Step two: Pick up your pre rolled cone and begin to fill it with the tobacco.
Step three: Using a packing tool or the end of something small and similar, gently push down on the tobacco, packing it in.
Step four: Grip the open end of the pre rolled cone - the wide end - and twist it so that it closes it up. Shake it just a little to make sure you get a consistent burn.
Step five: Find a comfortable spot, sit back, and light it up. Congratulations, you've got yourself the perfectly rolled cigarette.
Frequently Asked Questions
 How long is a RAW Classic 1 1/4 pre rolled cone?                                     
The RAW Classic 1 1/4 size cone is 84mm in length (3.3 inches). These also have a 26 mm filter tip. This is perfect you to enjoy solo or with a small group of friends!
How many people can enjoy a RAW Classic 1 1/4 cone?
These pre rolled cones are great for a group of friends. This cone will be plenty for a group of 2-3 people or even enjoyed solo! 
 What is so special about RAW Papers?
RAW papers are made from natural plants.  RAW is unbleached and contains no chalks, dyes or burn additives. Really helps you taste what you are smoking!        
Are pre rolled cones reusable?                                               
No. Pre rolled cones are meant to be used in place of rolling papers. You fill them with your tobacco and smoke them. They cannot be reused.
How much do the RAW Classic 1-1/4 Sized Pre Rolled Cones hold?
One of the most commonly purchased sizes, the RAW Classic 1 ¼ pre rolled cones hold about .75 grams of tobacco. The more you get accustomed to filling the RAW paper cone, the easier it will be for you to eyeball the amount it requires.
Do pre rolled cones have a filter tip?
Generally, yes. Most pre rolled cones come with a filter tip already there - all you have to do is fill it and you are good to go. If you have any questions or concerns about specific RAW cone products, reach out to our knowledgeable team at (702) 509-6042.
What company makes the best pre rolled cones?     
RAW makes the best pre rolled cones. RAW cones are made from natural plants with zero burn additives. Making it the best on the market! 
 100% Satisfaction Guaranteed: 
As an authorized RAW distributor, Green Blazer will replace any damaged product, or fully refund any customer not 100% satisfied with their purchase, no questions asked!
For a slightly larger pre roll cone size, you may be interested in:
For a slightly smaller pre roll cone size, you may be interested in: